WHAT WE DO?
We offer a comprehensive service from formulating business strategy, through the selection of an appropriate technology, developing and testing useful and scalable software, to the implementation, marketing and technological support. Take advantage of our 15 years of experience - not only in the creation of useful and flexible web applications, but in conducting business online as well.
START

STRATEGY
CUSTOMER DEVELOPMENT
BUSINESS MODEL GENERATION
IDEA VALIDATION
SEO - SEARCH ENGINE OPTIMIZATION
MARKETING PLAN
PRODUCT AND SERVICE DESIGN
USABILITY & ACCESSBILITY
WEB & MOBILE
ID & PRINT DESIGN
ILLUSTRATIONS & VIDEOS

CREATIVE DESIGN

TECHNOLOGY
WEB APPS
MOBILE APPS
DESKTOP APPS
SUCCESS!
HOW WE DO?
We are agile. For us agile approach isn't just about flexibility. It also ensures customer engagement, fast turnaround time, better risk management and client-oriented results. Our app development process consists of particular steps, to let you introduce changes or redo the draft, until achieving the expected effect.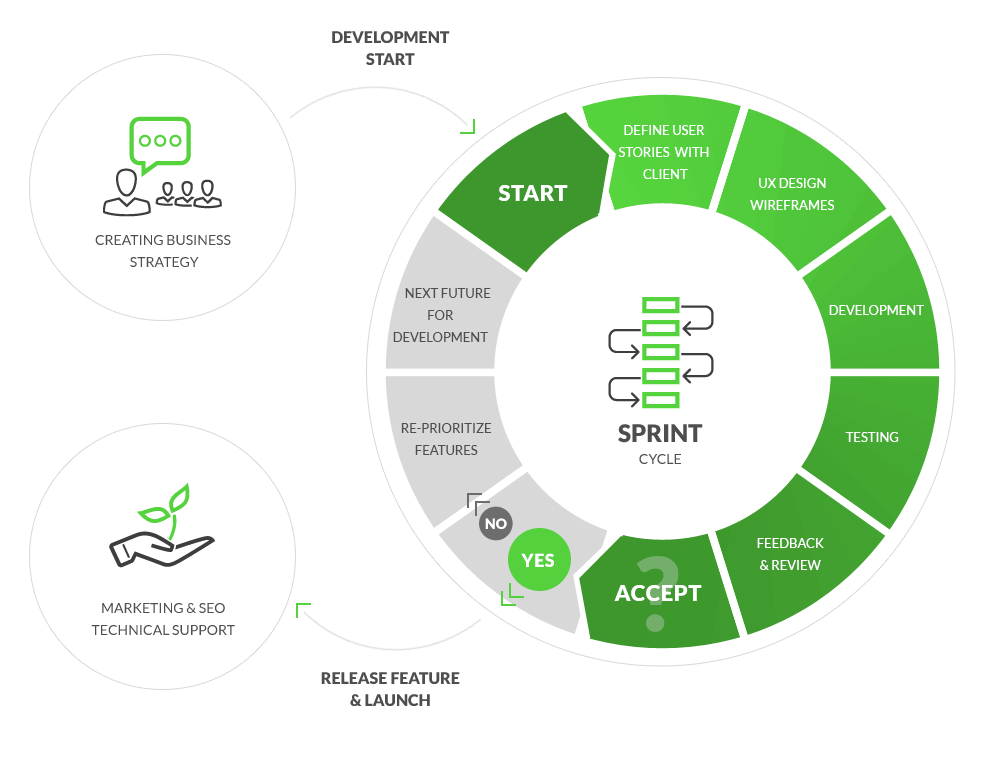 TECHNOLOGY
We push boundaries in order to find better ways of using advanced software technology to achieve top-quality output. The cutting-edge software technology and user-centered design of your app will distinguish the uniqueness of your business.
YES, WE CAN DO
IT

FOR YOU!

OUR MAIN AIM IS TO PROVIDE YOU WITH AN APP WHICH IS EXACTLY THE ONE YOU REQUIRE.
YOUR GOAL IS OUR CHALLENGE. OUR APP WILL BE YOUR STRENGTH.